You are here

How Lifestyle Creep Can Lead to Financial Ruin
How Lifestyle Creep Can Lead to Financial Ruin
Submitted by Robert Gordon & Associates, Inc on July 5th, 2023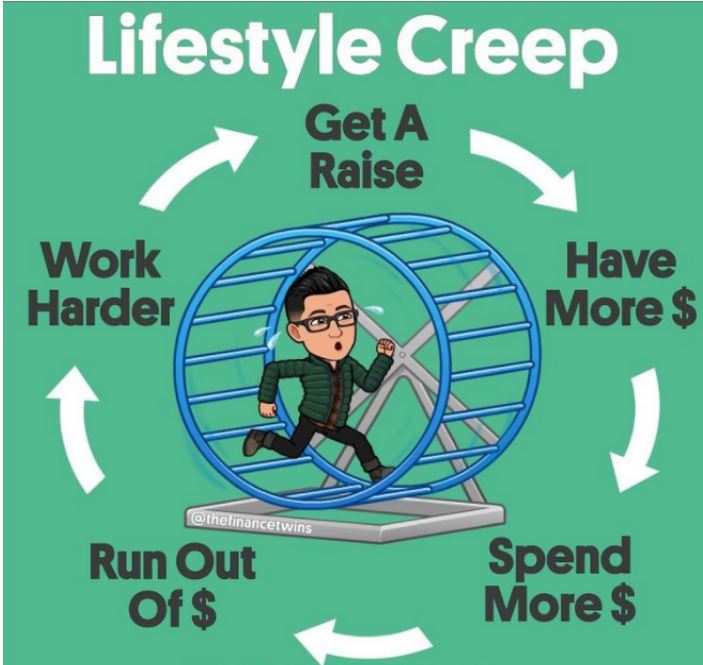 In today's society, it's easy to get caught up in the desire for more. As our incomes increase, so do our aspirations for a better lifestyle. However, if not managed carefully, this phenomenon known as "lifestyle creep" can lead to significant financial problems. In this article, we explore what lifestyle creep is and how it can impact your long-term financial well-being.
What is Lifestyle Creep?
Lifestyle creep, also known as lifestyle inflation, refers to the gradual increase in spending as your income rises. As you earn more, you may be tempted to upgrade your housing, purchase luxury goods, or dine at expensive restaurants more frequently. While treating yourself occasionally is reasonable, lifestyle creep occurs when these increased expenses become the new norm, leading to a higher cost of living that matches or even exceeds your income growth.
The Dangers of Lifestyle Creep:
Reduced Savings: One of the significant dangers of lifestyle creep is its impact on savings. As your expenses increase, it becomes harder to set aside money for emergencies, retirement, or other financial goals. Consequently, you may find yourself living paycheck to paycheck without a safety net, leaving you vulnerable to unexpected expenses or financial hardships.
Debt Accumulation: Lifestyle creep often goes hand in hand with increased borrowing. As you strive to maintain an elevated standard of living, you may rely on credit cards, loans, or other forms of debt to finance your expenses. Over time, this can lead to a debt spiral, with interest payments and monthly obligations eating into your income and limiting your financial freedom.
Hindered Wealth Building: Lifestyle creep inhibits your ability to build wealth and achieve long-term financial stability. The money that could have been invested for future growth or used to pay off debts is instead allocated to higher living expenses. This limits your ability to accumulate assets, build a nest egg, or take advantage of investment opportunities that could secure your financial future.
Managing Lifestyle Creep:
Be Mindful of Your Spending: Take a step back and evaluate your spending habits regularly. Differentiate between needs and wants, and be conscious of the impact each purchase has on your overall financial picture. Consider whether the value of a particular expense aligns with your long-term goals before committing to it.
Prioritize Savings and Investments: Set clear financial goals and make savings a priority. Automate your savings contributions to ensure consistency. Increase your contributions whenever possible, especially when you receive raises or bonuses. Invest your savings wisely to harness the power of compound interest and build wealth over time.
Resist Peer Pressure: Peer influence can play a significant role in lifestyle creep. It's essential to resist the temptation to keep up with others' spending habits. Remember that everyone's financial situation is unique, and focusing on your own financial well-being is more important than appearances.
Reassess Your Budget Regularly: Regularly review your budget to ensure it reflects your current financial goals and priorities. Make adjustments as needed to align your spending with your values and long-term objectives. By actively managing your budget, you can keep lifestyle creep in check and maintain control over your finances.
Practice Gratitude and Contentment: Cultivate a mindset of gratitude and contentment with what you have. Appreciate the progress you've made and find joy in experiences and relationships rather than material possessions. Embracing a simpler lifestyle can help you avoid the desire for constant upgrades and minimize the impact of lifestyle creep.
In conclusion, lifestyle creep poses a significant threat to your financial well-being if left unchecked. By being mindful of your spending, prioritizing savings, resisting societal pressures, and regularly reviewing your financial goals, you can prevent lifestyle creep from sabotaging your long-term financial success.