You are here

How to Teach Young Children to Save and Invest
How to Teach Young Children to Save and Invest
Submitted by Robert Gordon & Associates, Inc on January 2nd, 2020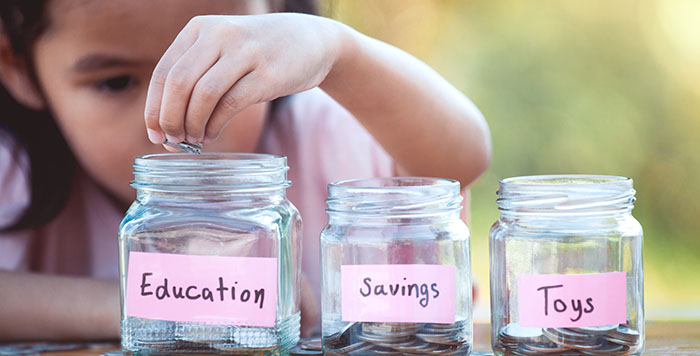 It can be both fun and educational for your kids.
When it comes to teaching children about money, you should get them involved early…as young as 7 or 8 years of age. Have them help with the bill paying. Expose them to preparing your tax return. And, if you have the money, set up a brokerage account for them. Let them pick a stock or two.
The neat thing about this concept is it introduces children to buying the companies that make the goods we want. For children, that means companies like Mattel or Disney. One little kid I know likes cars. He chose stock in General Motors because he loves the Corvette so much.
Of course, they won't know what really goes into stock analysis before investing money, so that's where the educational process begins. Another resource is popular mutual funds. Many fund families offer material designed for kids; some even offer actual mutual funds aimed directly at children.
Kid Friendly Resources to Learn About Money
One company's prospectus is written like a children's book, with simple explanations about mutual funds and investing. (Whether the fund is worthy of your child's money is another matter.)
If you don't participate in stock or mutual fund investing, learn about it, because your kids are going to ask! If you can't give them an answer, use the question as an opportunity to learn the answers together. It's a great way to spend time with your child, as well as improving their education and your personal finances.
A great Web site that can help you teach your children about money is www.jumpstartcoalition.org, sponsored by the Jump$tart Coalition, a nonprofit organization committed to helping educating school children. As described at its Web site:
"… the Jump$tart Coalition for Personal Financial Literacy determined that the average student who graduates from high school lacks basic skills in the management of personal financial affairs. Many are unable to balance a checkbook and most simply have no insight into the basic survival principles involved with earning, spending, saving and investing.
"Many young people fail in the management of their first consumer credit experience, establish bad financial management habits, and stumble through their lives learning by trial and error. The Coalition's direct objective is to encourage curriculum enrichment to insure that basic personal financial management skills are attained during the K-12 educational experience."
You can access more than 150 nonprofit organizations and sponsors via this web site. It's ideal for schoolteachers and others who want to teach students about money or investments.
Making Financial Education a Game
For example, there's a game on the site that teaches children about earning money and paying bills. The children first select the level of education they want (high school dropout, high school degree, or college degree).
Based on the level chosen, a corresponding average salary is given. Then it's up to the child to budget and plan for expenses, which include housing, food, car, and more. The site also lets the child build a lifestyle, such as choosing the kind of house and car he or she wants, and then it shows how much money the child needs to earn to support that lifestyle and the types of careers that pay such salaries.
It's a great opportunity for children to gain insight about what we grownups have to contend with.
The site also contains the only single source for finding publications and training aids designed specifically to teach kids about money. If there is a child dear to your heart, I strongly encourage you to check out this Web site. I only wonder how much more financially successful you and I would be if this information had been around when we were tykes.